There are about a million places I want to travel to someday.
I'm rather ashamed to admit that none of those places are located in the American South.*
Deep South: Four Seasons on Back Roads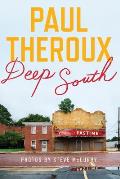 by Nevada BarrHardcover
So when I saw that infamous travel writer Paul Theroux had written a travelogue titled Deep South, I thought, well, in lieu of traveling anywhere south of the Mason-Dixon line, I'll just read that.
At no point was I swept away, really, in Theroux's narrative. I actually thought he was a bit wordy/long-winded through most of it, and the entire book could have done with a much tighter editing. (Theroux is, of course, a bestselling travel writer and novelist, best known for his books The Old Patagonian Express and (the novel) The Mosquito Coast. And I have read and enjoyed at least one of his earlier works. But I wonder if he is so hallowed these days that he is not much edited.)
Over the course of the four different seasons, Theroux drove away from his home in the north and meandered through such deep Southern states as Arkansas, Alabama, and Mississippi. And many of the stories he tells seem to center on the deep poverty of many people living in the South, combined with wonder at their kindnesses and hospitality to him. One of his very first stories is of getting lost in Alabama, when a kind woman asks if she can help him find where he's going.
"In Tuscaloosa, Alabama, on a hot Sunday morning in early October, I sat in my car in the parking lot of a motel studying a map, trying to located a certain church...
I slapped the map with the back of my hand. I must have looked befuddled.
'You lost, baby?'
I had driven from my home in New England, a three-day road trip to another world, the warm green stages of the Deep South I had longed to visit, where 'the past is never dead,' so the man famously said. 'It's not even past.' Later that month, a black barber snipping my hair in Greensboro, speaking of its racial turmoil today, laughed and said to me, in a sort of paraphrase of that writer whom he'd not heard of and never read, 'History is alive and well here.'" (p. 4.)
The woman who asked him if he was lost ended up leading him (she drove her car and he followed) to the church he wanted.
I did get a kick out of Theroux being curmudgeonly enough to ask many residents of Arkansas if they didn't think Bill Clinton's philanthropic work wouldn't be appreciated in many of the poorer areas of his own home state (as opposed to focusing on Africa). Most people didn't respond to that in any big way, but one person did reply that Clinton had his own weaknesses and proclivities, as all humans do (or something like that). And Theroux was gracious enough to agree with that and move on.
It was an interesting (if very sad, at times) read, and there's a lot of great pictures in it. Worth a look, but don't feel bad if you have to skip over some of the text because it is just taking too long.
*As a dedicated Anglophile, for one thing, I'd like to visit a lot more of England and Scotland (and Ireland, for good measure) than I've so far had the good luck to see.